Introduction
Welcome to Lorcana.gg's weekly meta report! Each week we analyze the state of the meta using data from the previous week of online and tournament play. Our tier list is updated with the latest data, while this meta report will go over what it all means, as well as highlighting some particularly strong and interesting decks in each archetype.
The tier list is separated into three tiers. Tier 1 has the strongest decks that boast a high win rate and often a high meta share (percentage of games played) as well. Tier 2 and Tier 3 decks are a notch or two below the top tier, with these decks usually having one or two weaknesses keeping them from dominating the meta. Lastly, we will highlight a Sleeper deck or two, which are decks with very low meta share but a high win rate. These decks are ones to watch out for, as with further refinement, they could vault themselves into the top tiers of the meta.
---
Meta Overview
This is the final week of the meta from The First Chapter, as Pixelborn has closed ranked play for the build-up to the release of set 2, coming next Friday. So let's take a look at where things stand heading into the Rise of the Floodborn meta, shall we?
While Amber has been the most popular and best performing ink throughout most of the TFC meta, the past couple weeks has seen Sapphire rise in the ranks. And this week 3 of the top 4 performing decks have been Sapphire decks. Of course, Amber still has a broad representation as well. These two inks seem to be top of the heap out of The First Chapter.
Despite Sapphire dominating the top of the tier list, only one deck stood out with a win rate to be considered Tier 1 this week. The classic "Zoolander" Blue Steel deck is the big winner this week with a strong win rate and decent meta share.
Meanwhile, Emerald/Steel bounced back from a rough week to land at the top of tier 2. The rest of tier 2 doesn't contain too many surprises. All the usual suspects are there like Amber/Sapphire, Amethyst/Ruby and, still the most popular deck on ladder, Amber/Steel "Steelsongs" Midrange.
The big faller this week is Amber/Ruby Midrange. After topping the tier list last week, it's win rate has fallen off to a more pedestrian number while its meta share remains very low. This deck probably deserves to be considered amongst the top meta contenders from this first set, but it was likely discovered too late and won't ever get a chance to really shine.
One note for this week's meta report, with Pixelborn closing ranked play for the season, we won't be highlighting any specific deck lists this week. Instead we'll be focusing on potential new deck improvements that may emerge in the Rise of the Floodborn meta.
Anyway, here is the full tier list from the final week of The First Chapter ranked games:
Tier List
Data is from games played on Pixelborn between Oct. 3-Nov 10
Tier 1
Sapphire/Steel Control Ramp
The tried and true Blue Steel deck closes The First Chapter on top with a win rate well above the rest of the field. This ramp control deck consistently did well on ladder and had a number of solid tournament performances as well. It will go into Rise of the Floodborn with a good solid base to build around.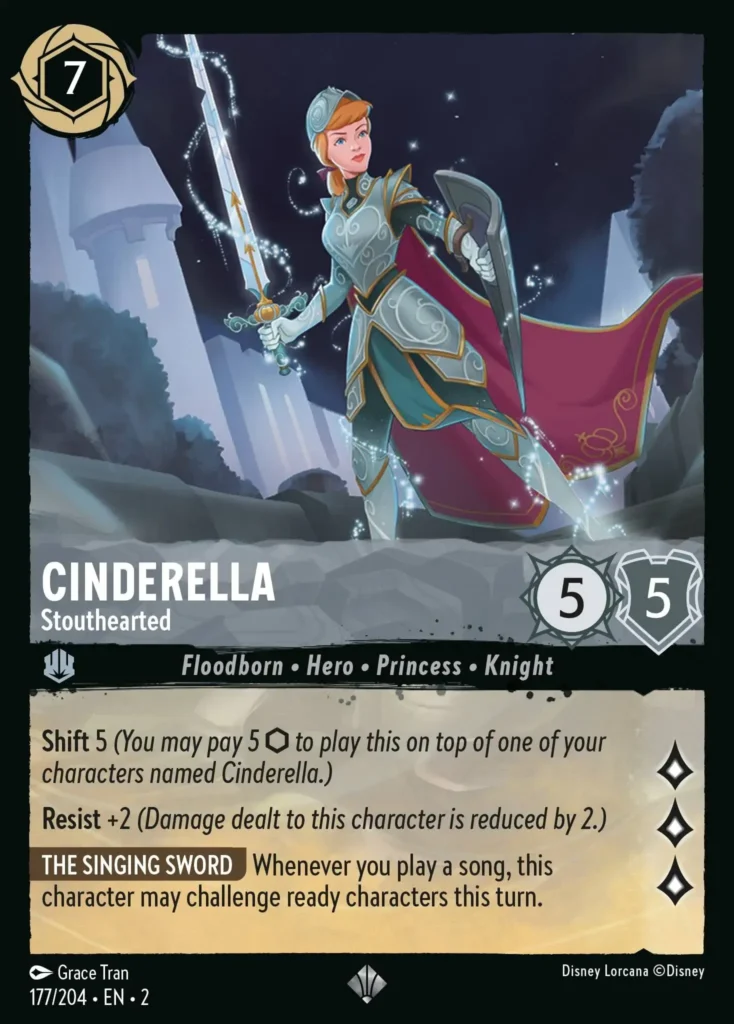 How might the deck change and improve in the next set? Well, both Sapphire and Steel are getting a number of good Resist cards, so we could see a Resist package bundled into the ramp shell, making this deck's characters even harder to remove.
Tier 2
Emerald/Steel Aggro
Emerald/Steel Aggro has had a bit of an up-and-down last few weeks. The volatility suggests some polarizing win rates amongst the other top meta decks. But overall, Emerald/Steel has been one of the best aggro decks in the TFC meta.
Projecting into Floodborn, Emerald has a number of strong new cards that can quest for high lore while being annoying for the opponent to deal with. That coupled with Steel's Resist characters and the super draw potential of A Whole New World has this deck poised to reach new heights in Rise of the Floodborn.
Amber/Sapphire Control Ramp
Sapphire continues its winning ways with the Amber/Sapphire Control Ramp deck. The third most popular deck on ladder this past week, mashing together the two best inks from the first set proved to be a winning combination.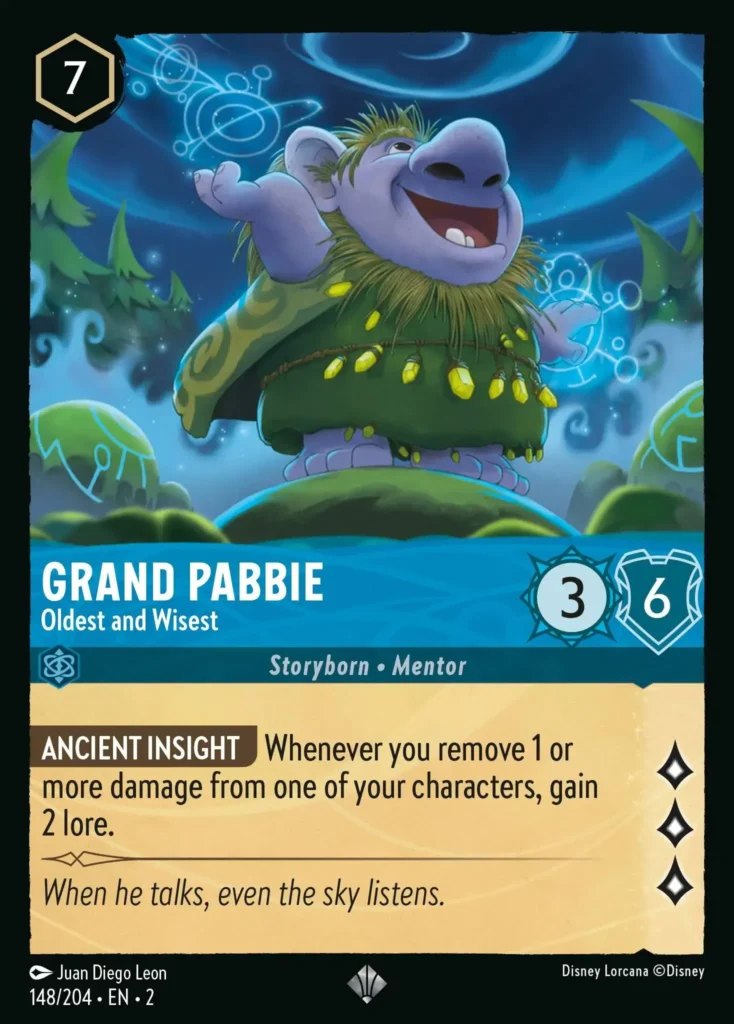 For set two, we could see this ink combination coalesce around a healing build. Utilizing Grand Pabbie and the new Floodborn Rapunzel, healing can net you card draw and lore gain. Definitely one to watch in Rise of the Floodborn.
Emerald/Sapphire Tempo Ramp
Sapphire again appears near the top of the tier list with this Emerald/Sapphire Tempo deck. The combination of ramp and tempo is a good one and this deck proved that you don't need a ton of card draw to be competitive. Just curve out with ramp and efficient characters with good lore for the cost. Then remove things late game with Let it Go and Hades to keep your opponent just far enough behind.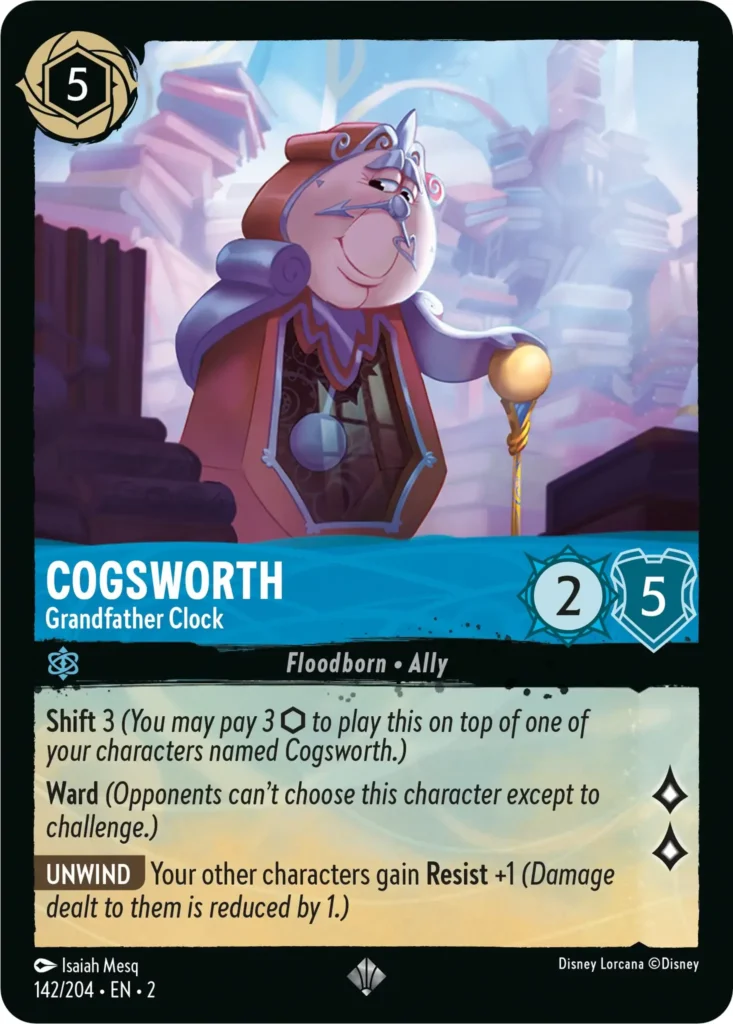 In set 2, this deck archetype could add a Resist package to its arsenal, making those high lore questers even harder to remove. Cards like Four Dozen Eggs and the Floodborn Cogsworth give Resist to your whole board, which is a scary proposition for your opponent.
Amethyst/Ruby Control
The tried and true Amethyst/Ruby Control deck closes out season one with another solid week. The deck is remarkably consistent and will go down as one of the best decks from The First Chapter meta.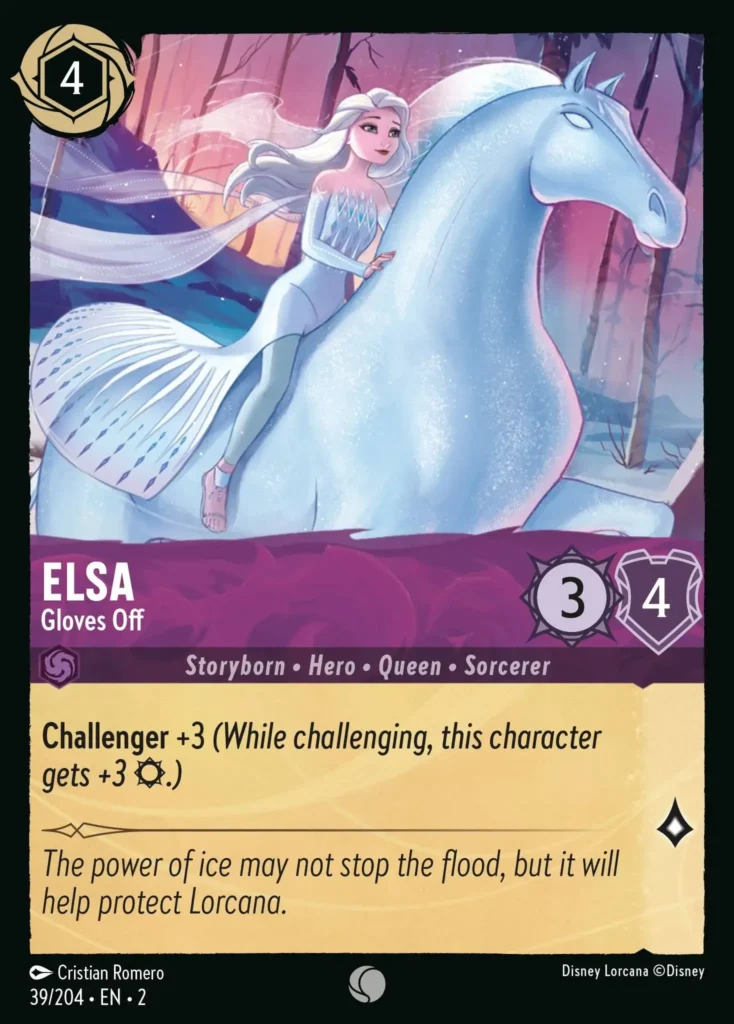 But how might it change in Rise of the Floodborn? Honestly, I don't think it needs to change much to remain competitive in the new meta. Maybe the deck runs the new Elsa, as a decent Shift target for Elsa - Spirit of Winter. Another potential option for this deck is The Sorcerer's Spellbook. The inevitability of gaining 1 (or more) lore each turn is a great win condition for this heavy control deck.
Amber/Steel Midrange
"Steelsongs", the undisputed king of the current meta, ends the season with a solid win rate and the highest meta share. Its performance across the season was outstanding. Once this deck archetype took off, it catapulted to the top of the meta and stayed there. It remains the top played deck on ladder and added many top tournament finishes as well.
Looking forward to the next set, will this deck archetype improve or fade away? I do think Resist is going to be prevalent so cards like Tinker Bell - Giant Fairy and Grab Your Sword are going to be much worse. But since we are running Steel, we can just swap those cards out with some of the best Resist cards coming in the next set.
Tier 3
Amethyst/Emerald Aggro
Amethyst/Emerald Aggro falls a bit this week, down into the top of tier 3. It spent most of the TFC meta hovering around the middle of the tier list. It is a solid if not spectacular deck, and now it will look to the second set for some improvements to its build.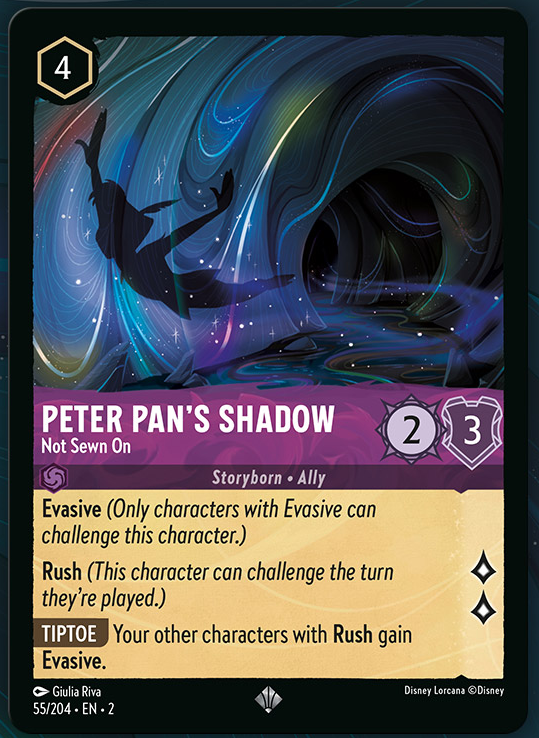 For Rise of the Floodborn, this ink combination has a number of exciting possibilities. One option is going with a heavy Evasive build, adding cards like Peter Pan's Shadow and Ray - Easygoing Firefly. With a lot of Rush cards to react to your opponent's board and Evasive characters questing unopposed, this deck could be in for big power upgrade.
Ruby/Sapphire Control Ramp
The Sapphire deck that falls the lowest on our tier list this week is Ruby/Sapphire Control. Now, to be fair, this deck archetype hadn't even shown up on our last two meta reports due to an abysmal win rate and low meta share. So it's still a testament to Sapphire's power level that it managed to chart this week. But this is clearly the weakest combination with Sapphire's ramp, despite the presence of some good top-end cards in Ruby.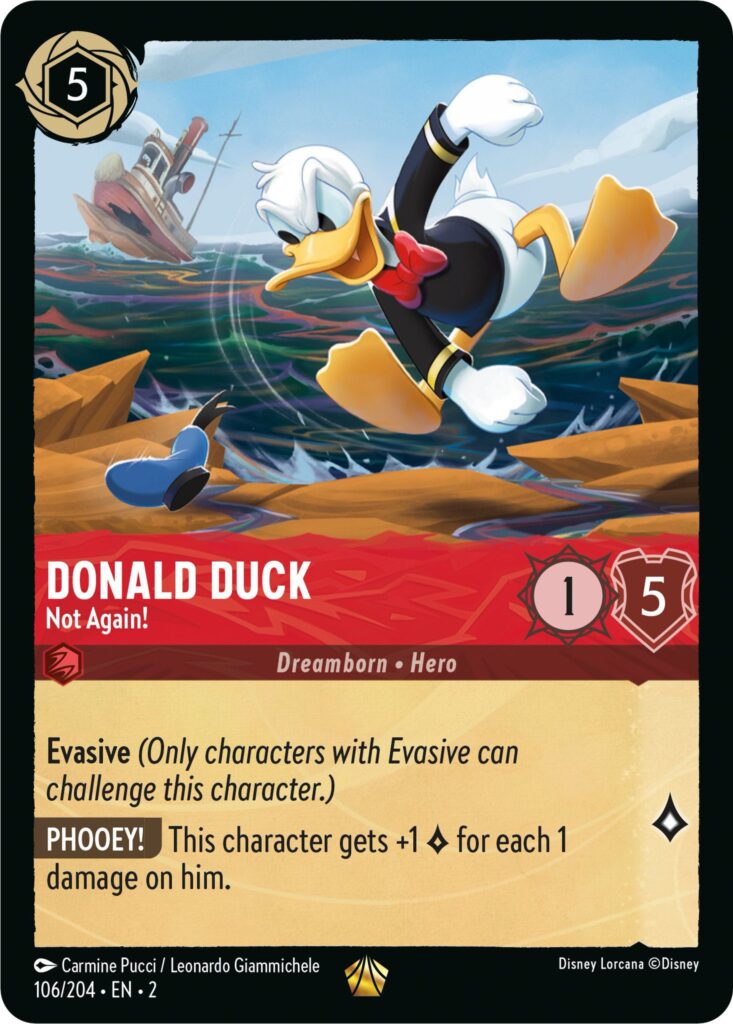 Could there be some options for improving this build in Rise of the Floodborn? One potential avenue is going with a self-damage and healing build, built around Donald Duck and Grand Pabbie as your main win conditions. Ruby's self-damage package could be the perfect complement to the persistent healing options available in Sapphire.
Amber/Ruby Midrange
Amber/Ruby Midrange falls off this week and ends the season near the bottom of the pack. Despite decent win rates against the top meta decks, it continues to experience a low meta share. And with the season wrapping up, we may never know the deck's true potential.
But maybe there are some upgrades and improvements to this deck waiting for us in Rise of the Floodborn. Just like Sapphire, Amber has a number of healing options in its arsenal. Ruby's new self-damage cards could pair very well with all the healing in Amber.
Amber/Emerald Aggro
The "Lemon Lime" deck continues to languish near the bottom the rankings. It's all-in strategy fairs poorly against too many of the top decks in the meta. It needs a big power spike from Rise of the Floodborn and it may just be in luck...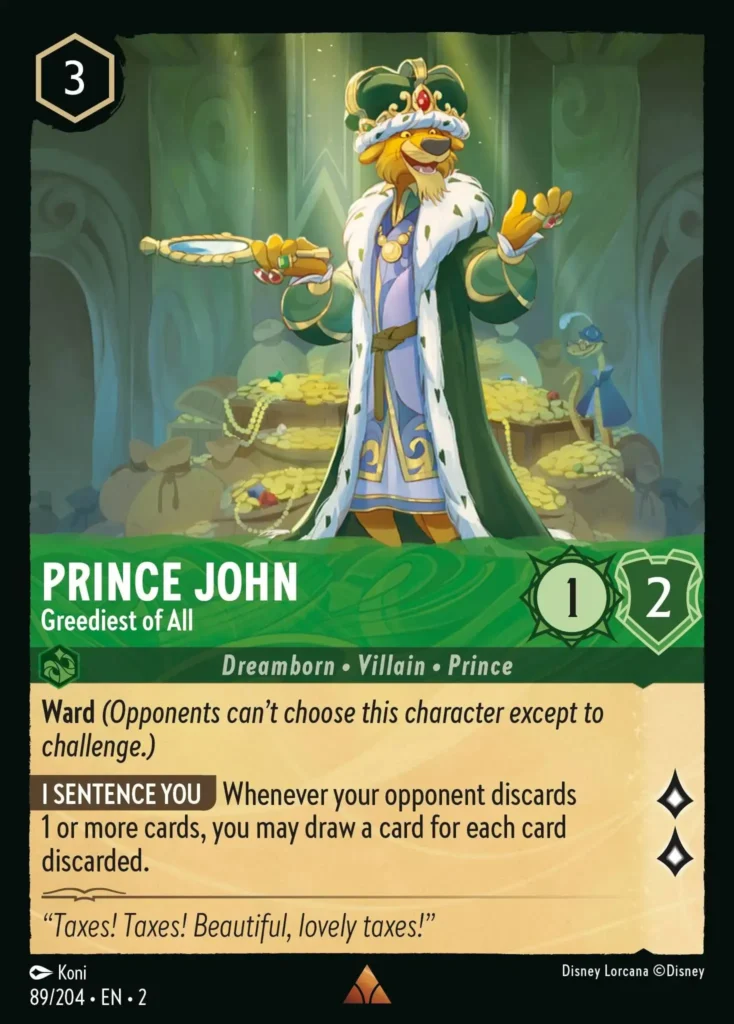 The discard package seems very promising in early playtesting and Amber/Emerald have all the cards necessary to make this deck really pop off. Prince John - Greediest of All draws you a card every time your opponent discards something. And then cards like Flynn Rider - His Own Biggest Fan and Belle - Bookworm benefit from all that discard. It's a potentially powerful combination. This could be the deck that dominates the early Floodborn meta.
Sleeper
Emerald/Ruby Aggro
Emerald/Ruby Aggro again finds itself as a sleeper deck for this week. It's full-on Evasive strategy does seem quite powerful and we can expect that to continue in set two.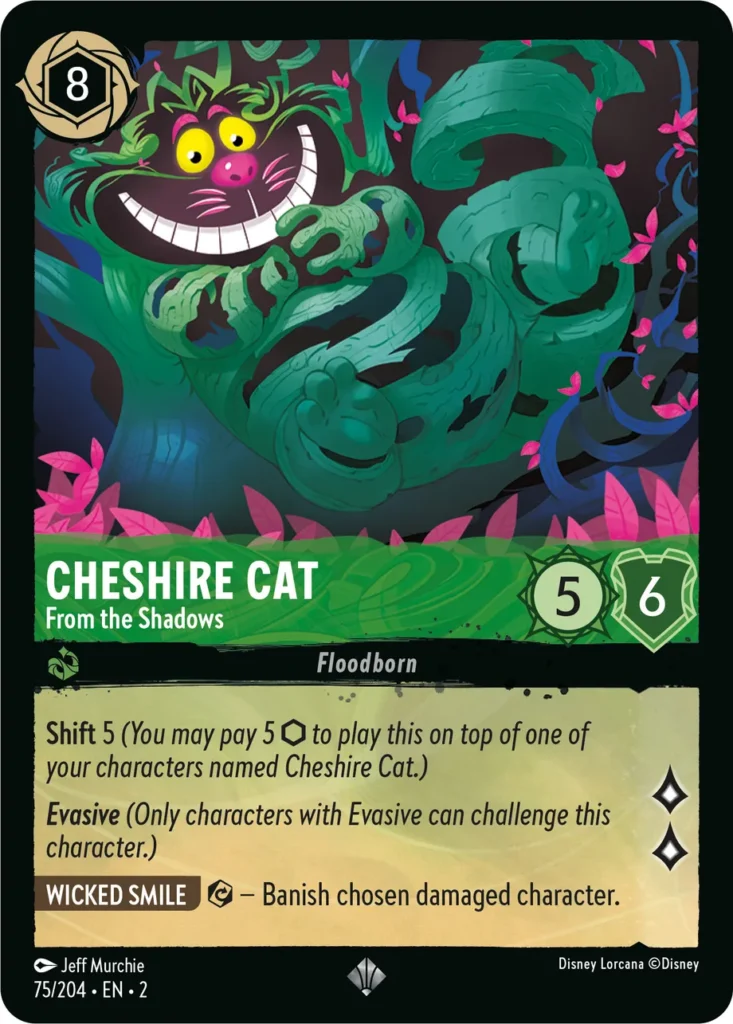 Emerald has some strong new Evasive cards in Ray - Easygoing Firefly and Cheshire Cat - From the Shadows and Ruby gets a new one as well in Figment - Ratigan's Henchman. All of these new Evasive cards could really push this deck up the rankings.
Amethyst/Sapphire Control Ramp
Sapphire rounds out its dominance of the tier list with the final ink combination available to it, Amethyst/Sapphire. This deck, relying on Sapphire's ramp and Amethyst's control tools, is a new one to the tier list and it shows some promise with a strong win rate. It remains to be seen, however, whether it will climb to even further heights in Rise of the Floodborn.
Sapphire and Amethyst don't have any direct synergies in Floodborn, but they are getting some strong cards overall. Could a new archetype emerge between these two inks? Only time will tell.
---
And that wraps it up for The First Chapter. I can't wait to see what 204 new cards are going to do to the meta. Will we see a strengthening of existing deck archetypes and ink combinations? Or will completely new lists emerge from the flood and surge up the tier list? We will find out soon enough!