Two more Amethyst cards from Disney Lorcana's second set Rise of the Floodborn have been revealed! One revealed by CNET and the other by Ravensburger in a post on the official Lorcana web site.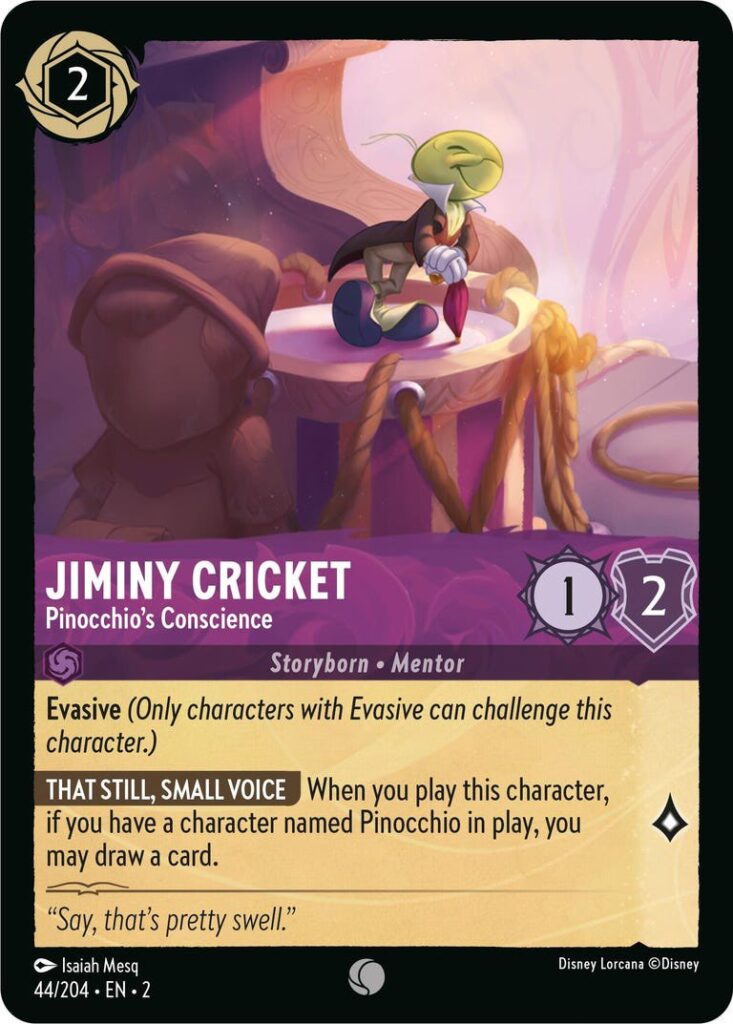 Jiminy Cricket - Pinnocchio's Conscience
Storyborn · Mentor
Cost: 2 (inkable)
Strength: 1
Willpower: 2
Lore: 1
Text: Evasive (Only characters with Evasive can challenge this character.)
That Still, Small Voice When you play this character, if you have a character named Pinocchio in play, you may draw a card.
Rarity: Common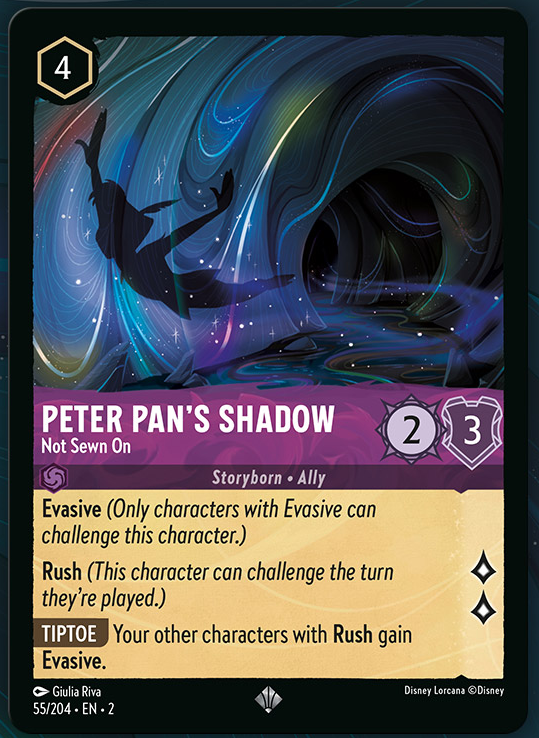 Peter Pan's Shadow - Not Sewn On
Storyborn · Ally
Cost: 4 (uninkable)
Strength: 2
Willpower: 3
Lore: 2
Text: Evasive (Only characters with Evasive can challenge this character.)
Rush (This character can challenge the turn they're played.)
Tiptoe Your other characters with Rush gain Evasive.
Rarity: Super Rare
---
Two interesting new Evasive cards for Amethyst. Evasive is a keyword that gets worse over time as more Evasive cards are printed but thankfully these two cards come with additional abilities. Jiminy Cricket has a nice draw attached for a 2-cost card. Of course, you have to have a Pinocchio in-play and unfortunately the only Pinocchio's we know about are also 2-cost, so there isn't that natural on-curve play. A 1-cost Pinocchio being revealed would boost this card's playability significantly.
Peter Pan's Shadow is a neat card that let's you deal with opponent's Evasive characters immediately. His Tiptoe ability pairs really well with a card like Rafiki - Mysterious Sage. With Rafiki, you can remove something on turn 3 and if Rafiki survives the challenge, and the next turn Pan's Shadow can come down and they can team up to banish something like a Goofy - Daredevil or even Mickey Mouse - Brave Little Tailor. Cool card with some fantastic art.